Music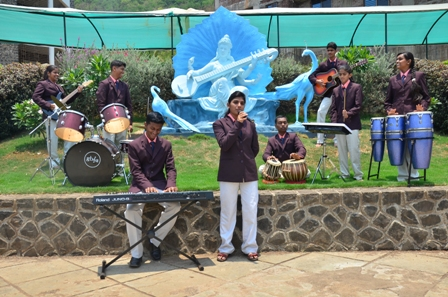 In keeping with our focus of developing the all round personality of a student. We give a great deal of importance to co-curricular activities. Education at Sanjeevan includes exposure to music,dance, dramatics and arts like painting, clay modeling. The school has an orchestra and school band, which play on a wide range of Indian and Western musical instruments adding a variety colours and melodious touch to morning assembly and in numerous vibrations in the forms various presentations in the school amphitheater. The school has a bunch of teachers for music, art, craft and dance. We have a modern stage and an open – air auditorium for live performances. An indoor auditorium is also being constructed in order to provide amenities to the students.
Art and Craft
This dept. is a dream department and a favorite one for our talented students. The students are taught drawing, painting, clay modeling, sculpting, paper craft, best out of waste, colour combination and various other art forms.At a very small age, their art talents are nurtured on the canvas of potentials.
Drama
With a view to encourage the acting talent in students and provide them ample opportunity as actors and create caliburous actors for drama theaters, the drama dept. of Sanjeevan takes an active lead. The talented teachers who are masters in drama writing and direction, shapes the students by teaching them drama reading, drama enacting, and one-act and make them participate in various competitions to prove their caliber. Sanjeevanites are also proving their talents in the field of film directions. This dept. tries to develop all round personality of students.
Dance
The dance dept. of Sanjeevan is blessed by lord Natraj. Students having deep interest in dancing, dance in rhythmic steps under the guidance of dance teachers. Their enchanting movements create magic and show their hidden potentials. Many ex-students are proving themselves as Choreographers, Producers of short films and this is the sweet fruits of success of the efforts taken by this dept.